Pain and Opioid Management in Veterans in Primary Care
Evidence, Lessons Learned, and Future Directions in the Use of Collaborative and Integrated Care Approaches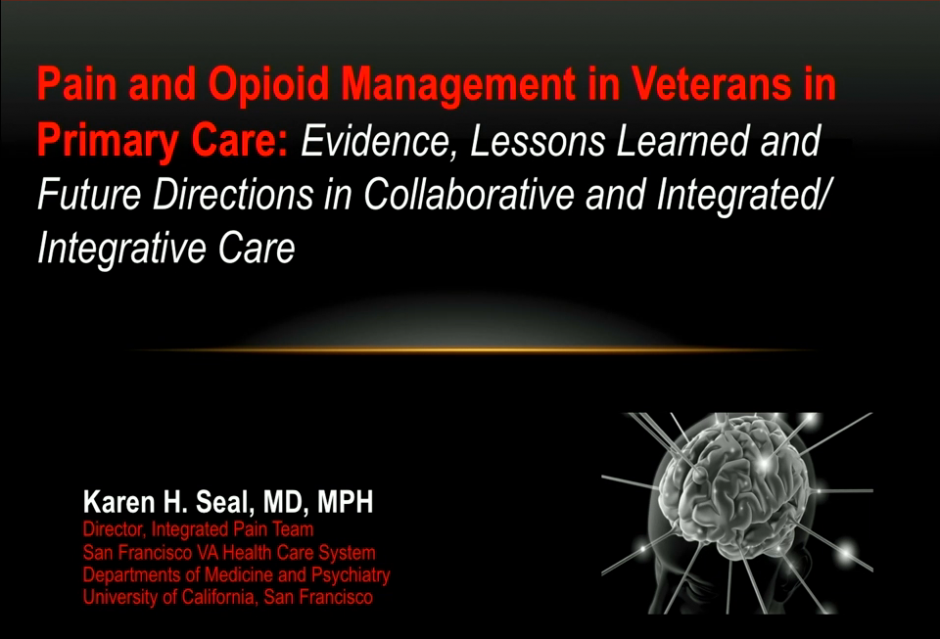 Karen Seal, MD, MPH is a professor of medicine and psychiatry at the University of California, San Francisco. She is based at the San Francisco VA Health Care System (SFVAHCS), where she is director of the Integrated Care Clinic for Iraq and Afghanistan Veterans and director of the Integrated Pain Team (IPT) Clinic.
Dr. Seal discusses an ongoing pilot randomized control trial involving veterans with chronic pain and high-risk prescription opioid use, which aims to examine pain- and opioid-related outcomes resulting from biopsychosocial, nonpharmacologic care including motivational interviewing, shared decision-making and "SMART" goal planning as part of a multi-modal pain care plan.

Dr. Seal's research focuses on developing and testing new integrated care interventions to address comorbid mental and physical health problems, including chronic pain and opioid misuse among veterans.