Dr. Sanford Newmark Writes Chapter in Dr. Andrew Weil's Mind Over Meds Book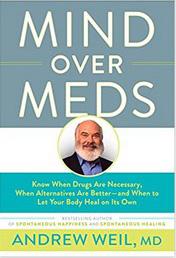 Osher Center medical director and neurodevelopmental pediatrician, Dr. Sanford Newmark, has written the chapter on Medications for Attention Deficit Hyperactivity Disorder (ADHD) in Dr. Andrew Weil's new book, Mind Over Meds. The book includes 18 chapters, each on a different medical issue for which over-medication may be a problem, each penned by a different expert in the field.
Dr. Newmark is renowned for his work with ADHD patients and their families. He is the author of the popular book ADHD Without Drugs: A Guide to the Natural Care of Children with ADHD, and his online videos on the subject have had millions of views.