Drs. Eve & Paul Ekman in New Documentary on Dalai Lama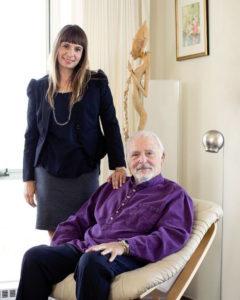 UCSF Osher Center research fellow Dr. Eve Ekman and her father, renowned research psychologist Dr. Paul Ekman are featured in a segment of the new documentary The Last Dalai Lama? which will be playing in Bay Area theaters starting July 7. The Drs. Ekman are collaborating with HH The Dalai Lama on a groundbreaking project called The Atlas of Emotions.
Synopsis: The Last Dalai Lama? takes a fresh look at what is important for the 14th Dalai Lama at 80: The historic confrontation between Tibet and China; his influence in political, spiritual, and educational spheres; work with neuroscientists; and his personal feelings on aging, dying and whether he will be the last Dalai Lama. The film artfully weaves archival and contemporary footage from Lemle's groundbreaking Compassion in Exile: The Story of The 14th Dalai Lama (1992); intimate interviews with His Holiness, shot 25 years apart; and interviews with his family and the Westerners he's inspired since his exile from Tibet in 1959.
The film is enhanced by a beautiful original music score composed and performed by Philip Glass and Tibetan musician, Tenzin Choegyal.