How Alternative Treatment Helps Chronic Pain, Opioid Addiction
News Channel 5 with Dr. Lindsey McKernan (Vanderbilt Osher Center)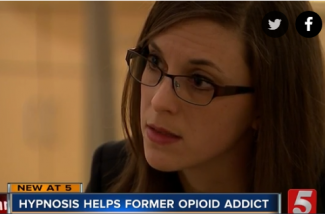 As lawmakers debate on bills that could impact the opioid crisis in Tennessee, people have been looking for alternative treatments to help with chronic pain and, in many cases, addiction. Steve Olson has been taking individual and group clinical hypnosis sessions at the Osher Center for Integrative Medicine on West End in Nashville.
Click here to watch the news video.
Dr. Lindsey McKernan helped guide him to a better place and move away from the opioids through hypnosis.
"It's a treatment that focuses between a patient and a provider, and it can be done in a group and an individual setting. It's about learning a way to relax very deeply where you're guided into that by a provider," said McKernan.
She said hypnosis can help reduce the activity of signals firing back and forth between the brain and body when the person is experiencing pain.
"It might not be the pain goes completely away, but it could be that your daily pain changes to seven out of ten to five out of ten. That could make the difference between getting out of bed for the day," added McKernan.