Northwestern Osher Center Receives Community-Engaged Research Partnership Award
Alliance for Research in Chicagoland Communities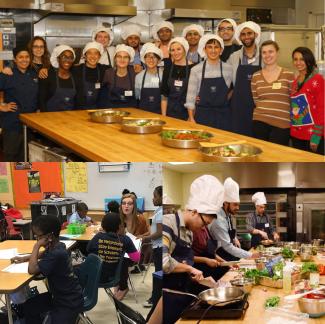 2018 Award Winner: Cooking Up Health: Docs & Kids in the Kitchen
In 2016, an Alliance for Research in Chicagoland Communities (ARCC) seed grant award enabled the strong partnership foundation to address childhood obesity issues and foster the development of a sustainable program for the delivery of cooking and nutrition education in the community by future physicians. The unique Cooking Up Health is an elective course at Feinberg which teaches medical students about nutrition through the lens of culinary medicine and community health and hands-on cooking. The medical students then deliver the healthy habit messages to Chicago Public Schools elementary school students in underserved communities.
The 2018 award acknowledges the exemplary partnership between lead community partner, Stephanie Folkens, of Common Threads, a community organization fighting childhood obesity through cooking and nutritional education, and lead academic partner, Northwestern's Melinda Ring, MD, of the Osher Center for Integrative Medicine for the efforts of Cooking Up Health: Docs & Kids in the Kitchen.
The Alliance for Research in Chicagoland Communities (ARCC) established this award to recognize community-engaged research partnerships that exemplify strong collaborative community research principles and have made an impact on the health of their community. ARCC is part of the Center for Community Health serving Northwestern University's Institute for Public Health and Medicine and Clinical and Translational Sciences Institute.