Pamela Sharpe, FNP-BC
University of Cincinnati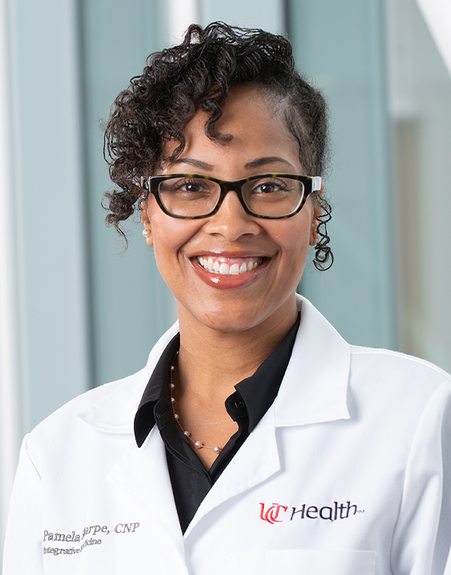 Pamela Sharpe, FNP-BC, is a nurse practitioner at the Osher Center at University of Cincinnati. She specializes in integrative and lifestyle medicine, which utilizes a whole food plant-based eating pattern, physical activity, sleep for restoration, management of stress, positive social connections, and avoidance of toxic substances as an evidence-based therapeutic modality. 
 
Her journey into medicine started with food. Trained as a chef, Sharpe wanted to create higher-quality nutritional meals for her family and friends, some of whom were affected adversely by chronic health and lifestyle-related conditions. Seeking to gain an even greater understanding, she went on to receive her Bachelor's degree in in Food and Nutrition with Pre-Med and Chemistry. "My education gave me a greater understanding of advanced nutrition, biochemistry, and human metabolism as related to wellness, diseases, and chronic conditions," said Sharpe. She went on to gain graduate-level training and experience as an ANCC Board-Certified Family Nurse Practitioner. 
 
In clinical practice, she uses allopathic and osteopathic medicine in combination with evidence-based lifestyle medicine and integrative therapies to help patients to address or improve challenges of stress, sleep, nutrition, and movement. "My personal philosophy is that it is never too late to change and even the smallest changes can lead to lasting results," she said. With intensive lifestyle changes, one can see significant changes in the optimization of many acute and chronic conditions. Some conditions may not be able to be reversed but implementing lifestyle and integrative medicine can help decrease pain, stress, improve sleep and mood, as well as helping patients live their lives to the fullest. 
As a new member of the Osher Collaborative, Sharpe is excited to exchange wisdoms across our wide network of integrative health professionals. "I am so grateful for my colleagues at University of Cincinnati and the opportunities I've had — now that network of opportunity has expanded."