New Publication by Osher Collaborative, Primary Care: Clinics in Office Practice
Special Issue Integrative Medicine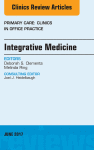 We are thrilled to announce publication of this new "Primary Care – Integrative Medicine" issue, authored by Osher Collaborative faculty members and providers.
Edited by Deborah S. Clements and Melinda Ring
Forward: "Too Much?"
Joel J. Heidelbaugh

Over the past decades, integrative medicine has exploded as a mainstream alternative to conventional medicine, marrying a holistic approach with directed attention toward the mind-body connection, nutrition, and biophysiologic medicine with a patient-centered approach. It's popular; it's in demand, and the demand often can't be adequately met in many areas of the country. Most US medical schools still eschew any codified curricula to provide adequate education in integrative medicine, nutrition, or any other form of alternative medicine. Fortunately, fellowship and additional training programs now provide the venue for practitioners across all medical fields to learn and incorporate such knowledge into their practices. Insurance companies still view most alternative therapies as nontraditional and rarely cover any therapeutic provisions or supplements. The landscape of health care in the coming years has the opportunity to embrace integrative medicine, but the story is yet to be told.
Integrative Medicine and Primary Care
Deborah S. Clements, Melinda Ring

In primary care, we have become increasingly aware of our patients' interest in seeking alternatives to conventional approaches to treatment. This interest often arises from a patient's desire to have their care aligned with their values, beliefs, and philosophies about wellness. Patients understand they are more than the sum of their illnesses. Integrative medicine, the practice of medicine that focuses on caring for the whole person, using all available therapeutic choices from a variety of cultures, is a way to introduce additional healing tools into primary care practice. The principles we associate with primary care—comprehensiveness, continuous, coordinated care in the context of the community—are reflected in the integrative medicine model as well. In caring for the whole person, we recognize that both physical and nonphysical factors impact health, well-being, and disease. This interrelatedness of the patient and their environment is at the heart of both primary care and integrative medicine.
Introduction to Integrative Medicine in the Primary Care Setting
Melinda Ring, Rupa Mahadevan

Integrative Medicine has been described as "healing oriented medicine that takes account of the whole person (body, mind, and spirit) including all aspects of lifestyle. It emphasizes therapeutic relationships and makes use of all appropriate therapies, both conventional and alternative." National surveys consistently report that approximately one-third of adults and 12% of children use complementary and integrative medicine approaches. Although there are barriers to primary care professionals engaging in discussions about lifestyle change and complementary and integrative medicine options, there is also great potential to impact patient well-being.
Phytotherapy: An Introduction to Herbal Medicine
Charles C. Falzon, Anna Balabanova

Herbal medications are commonly used in all medical settings, making it essential for primary care providers to learn about the products being used and resources they can access for continuing education. Understanding how herbal medicines are sourced, processed, and standardized can help providers guide patients who are trying to choose the most clinically effective and affordable treatments. Multiple herbs are often combined and sold as proprietary blends, which can increase the risk of allergies, adverse reactions, or cross-reactivity with other pharmaceuticals and supplements. Several textbooks, online point-of-care resources, and conferences are available for primary care providers to expand their knowledge of herbal medicines.
Integrative Medicine Strategies for Changing Health Behaviors: Support for Primary Care
Ruth Q. Wolever, Karen L. Caldwell, Lindsey C. McKernan, Marni G. Hillinger

Until system reforms allow adequate time and reimbursement for primary care providers to focus on lifestyle change to prevent and mitigate chronic disease, primary care providers need a manageable, defined role to support lifestyle change. The authors suggest this role is to serve as a catalyst, priming the patient for change; educating and pointing the patient to appropriate, evidence-based resources for additional guidance and hands-on support; and providing ongoing encouragement throughout the long journey of change while patients work more intensely with health coaches or allied health providers.
Integrative Medicine for the Treatment of Persistent Pain
Marni G. Hillinger, Ruth Q. Wolever, Lindsey C. McKernan, Roy Elam

Integrative health modalities can provide useful tools in the management of persistent pain in the primary care setting. These modalities, such as acupuncture, mind-body medicine, diet and herbs, and movement strategies can be safely used and may provide patients with hope and empowerment. It is highly recommended that the patient work alongside trained professionals for a given modality and/or an interprofessional team.
Integrative Medicine for Gastrointestinal Disease
Michelle L. Dossett, Ezra M. Cohen, Jonah Cohen

Gastrointestinal conditions are prevalent in the population and account for significant morbidity and health care costs. Patients with gastrointestinal conditions use integrative medicine. There is growing evidence that integrative medicine approaches can improve symptoms and affect physiology and disease course. This article reviews data on some common and well-studied approaches, including mind–body therapies, acupuncture, diet, probiotics, and dietary supplements and herbs. Although clear recommendations can be made for some conditions, in others there are challenges in translating these findings owing to small study size, lack of standardization, and trial heterogeneity.
Integrative Medicine and Mood, Emotions and Mental Health
Anuj K. Shah, Roman Becicka, Mary R. Talen, Deborah Edberg, Sreela Namboodiri

An integrative approach to individuals with mood, emotional or mental health concerns involves a comprehensive model of care that is person-centered. Integrative medicine builds on a patient's personal meaning and goals (spiritual aspects) and includes herbal therapies, nutritional support, movement and physical manipulative therapies, mindfulness, relaxation strategies, and psychotherapies.
Complementary and Integrative Interventions for Chronic Neurologic Conditions Encountered in the Primary Care Office
Danny Bega

Chronic neurologic conditions are frequently managed in the primary care setting, and patients with these conditions are increasingly seeking nonconventional treatment options. This article provides a review and summary of the evidence for some of the most commonly studied and most frequently used complementary and integrative interventions for 3 conditions managed every day in primary care offices – diabetic neuropathy, migraine, and dementia.
Restoring Balance for People with Cancer Through Integrative Oncology
Judy A. Fulop, Ania Grimone, David Victorson

Integrative Oncology incorporates conventional and western cancer treatment approaches with the best of ancient and traditional medicine including nutrition, supplements, Qigong, herbal medicine, mind-body practices, and more. This article offers a guiding conceptual paradigm from an integrative perspective based on the principles of balance and imbalance. An integrative approach is used to help improve quality of life, enhance lifestyle choices and mitigate symptoms and side effects from conventional treatments. By supporting the patient's mind, body and spirit throughout the cancer treatment journey, the primary care physician is in a key position to work with their patient's oncologist to provide supportive care and recommendations during cancer treatment.
Pediatric Integrative Medicine
David K. Becker

The practice of pediatrics from an integrative framework is based on physician-patient relationship, informed by evidence, and approaches the health of children and their families from a broad perspective. This article reviews the basic principles of integrative pediatrics and summarizes data and integrative approaches to common pediatric conditions seen in the primary care setting.
Integrative Medicine and Cardiovascular Disorders
Darshan Mehta

Integrative medicine (IM) has developed an increasingly significant role in health care worldwide, including cardiovascular diseases (CVD). This review describes the commonly used IM in CVD, with particular attention placed with dietary supplements and mind-body therapies. More rigorous research continues to be needed to determine the mechanisms and efficacy of IM cardiovascular morbidity and mortality. Health care providers will need to develop skills in open communication and nonjudgmental dialogue around IM use in discussing treatment plans with their patients.
Women's Health: Pregnancy and ConceptionReview Article
Judith Cuneo

Preconception is an ideal time to assist women contemplating pregnancy to modify health behaviors. Dietary needs in pregnancy are critical and may require supplementation. The use of mind-body medicine in the antenatal period assists patients in childbirth preparation. Integrative medicine techniques can be safely and effectively used for common third-trimester obstetric complications of pregnancy.
Women's Health: Polycystic Ovarian Syndrome, Menopause, and Osteoporosis
Melinda Ring

Surveys consistently show that a significantly higher percentage of women with chronic medical conditions report use of complementary and integrative medicine (CIM) approaches compared with men. A total of 54.5% of women report use of at least one CIM approach specifically for obstetric or gynecologic problems. However, primary care providers remain an underutilized resource by patients for guidance in the safe and appropriate use of integrative therapies. This article provides a practical overview of the most appropriate integrative therapies to consider in the management of commonly seen women's health conditions: polycystic ovarian syndrome, menopause, and osteoporosis.
Volume 44, Issue 2, Pages 203-398 (June 2017)